Earth House
Regular price
Sale price
$29.00
Unit price
per
Sale
Back Soon!
Jojoba Oil
Simmondsia chinensis
200ml
Light, silky & fast absorbing, Jojoba Oil isn't actually an oil - it's technically a cold pressed liquid wax ester. It's composition is similar to the sebum our bodies naturally produce, making this naturally hypoallergenic, versatile oil highly compatible for all skin types.
Jojoba Oil is also non-comedogenic, anti-inflammatory, and packed with vitamins and minerals - making it a great choice for aging, dry, or acne-prone skin. Jojoba is well known for its moisturising, nourishing & emollient properties, both adding moisture to the skin, and creating a barrier to help prevent moisture loss. It works particularly well when used on wet skin, or after using a humectant (such as a water-based serum). Use on its own, or as an effective ingredient in your DIY skincare.
Uses For Jojoba Oil
Facial cleanser
Make-up remover
Skin serums
Carrier oil
Shaving oil
Body oil
Hair and cuticle treatment
Suitable for all ages. Store in a cool, dark place. Always do a patch test before using.
Share
View full details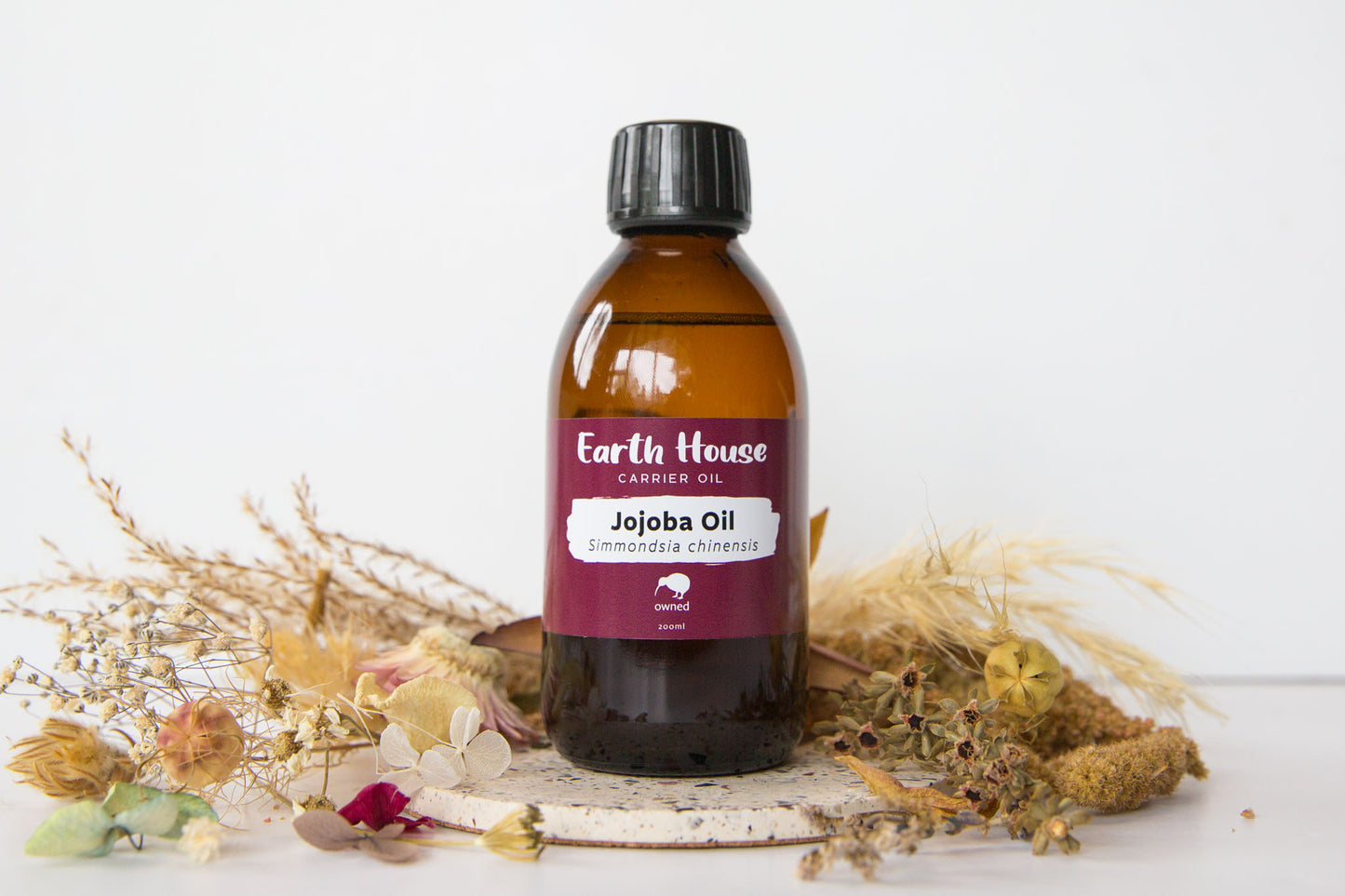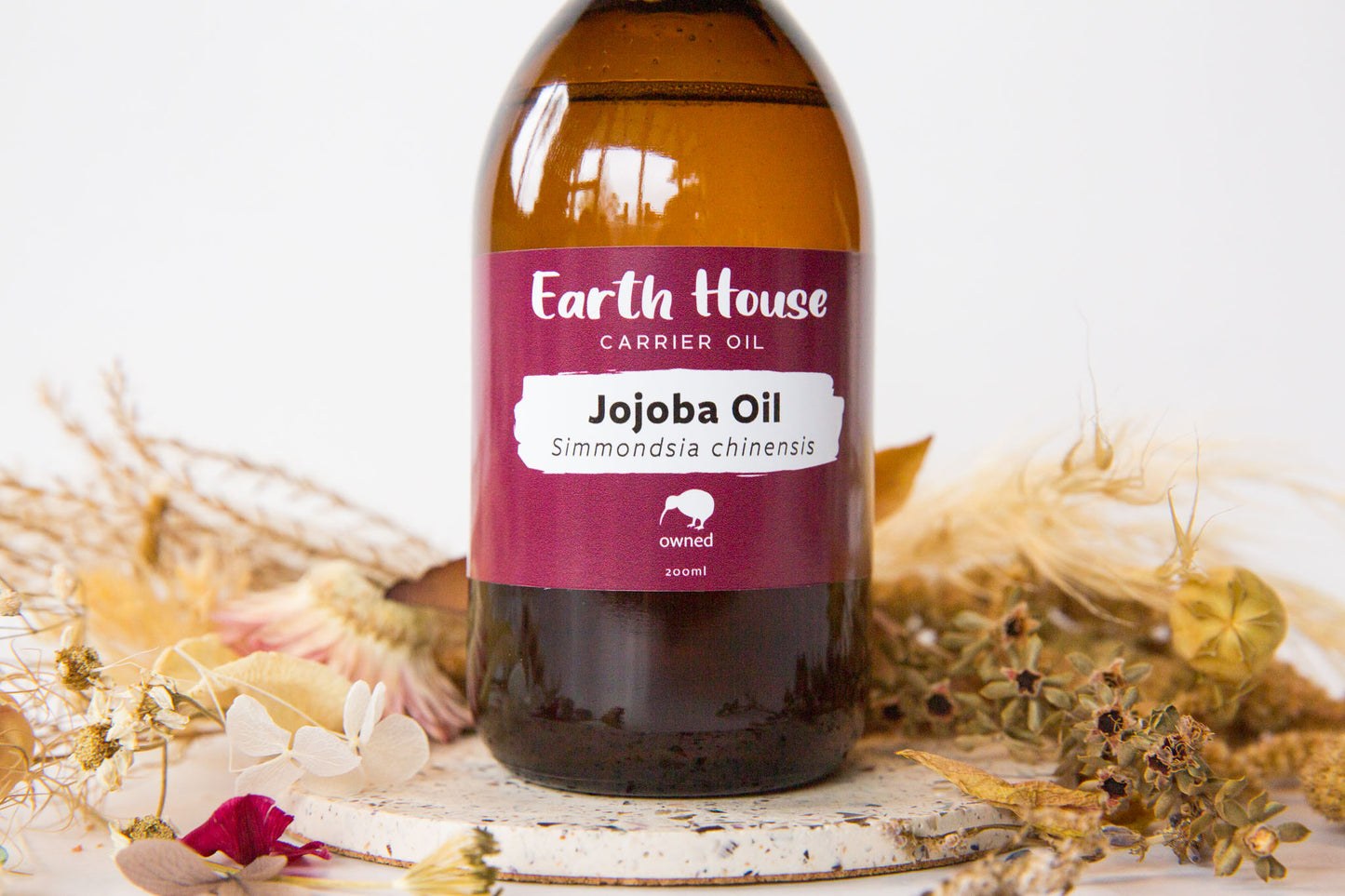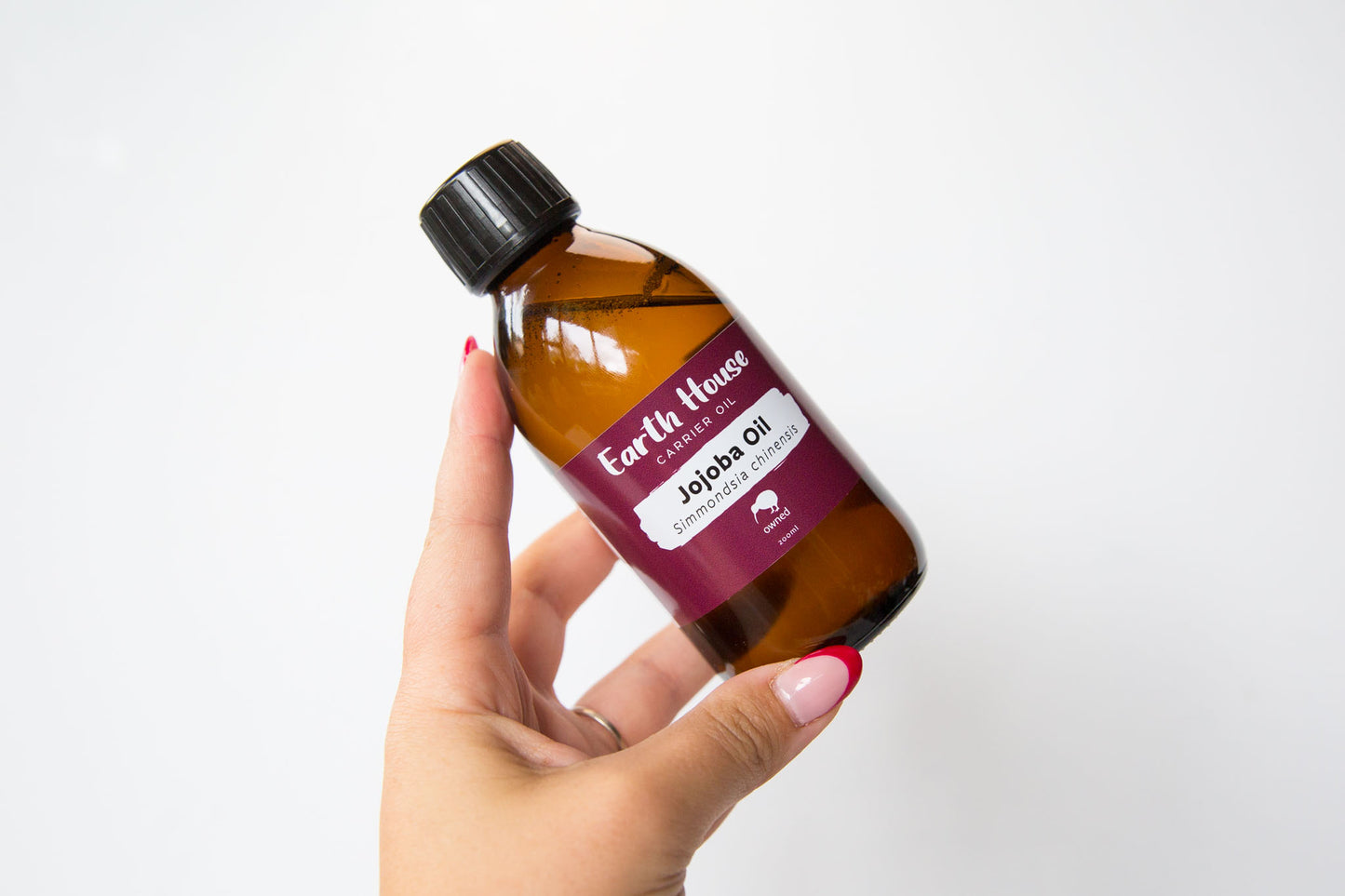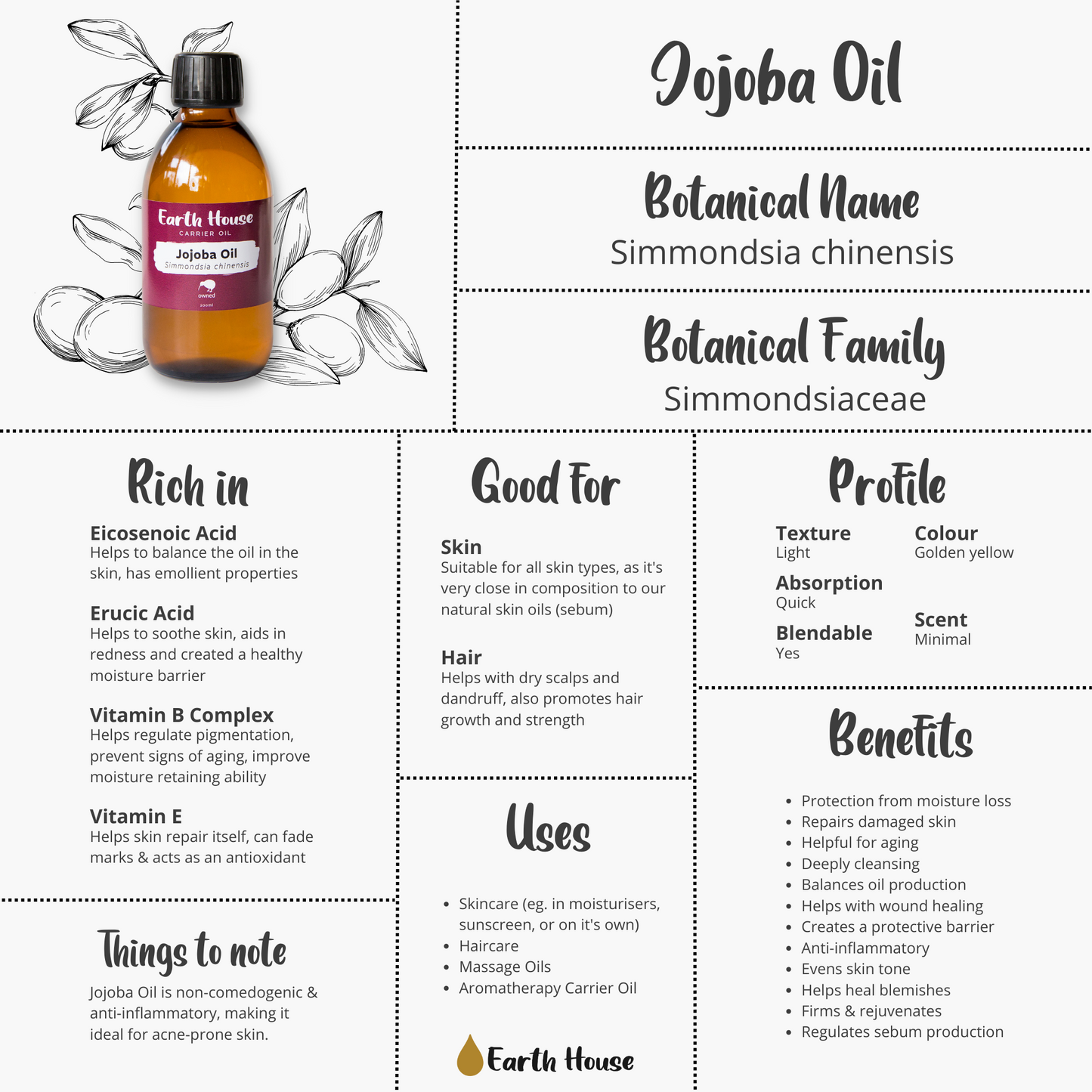 Features & Info
What are carrier oils?

Carrier oil is a term used to describe a base oil used in a recipe to dilute essential or fragrance oils to a safe level for topical usage.
Skin Type Oil Recommendations

Normal Skin Type: Sweet Almond

Oily Skin: Sweet Almond, Apricot Kernel, Jojoba

Dry Skin: Sweet Almond, Jojoba

Sensitive Skin: Sweet Almond, Apricot Kernel, Jojoba
"Self care is not self indulgence; it's self preservation."
What to add
Different essential oils hold different therapeautic benefits. Find your new favourite oil below, or play around to create a custom blend!
Essential Oils
Essential oils are highly concentrated compounds, extracted from the leaves, flowers, seeds, bark, roots or peel of a plant. They've been used for many years in skincare, to add natural fragrance, or for aromatherapy.
See More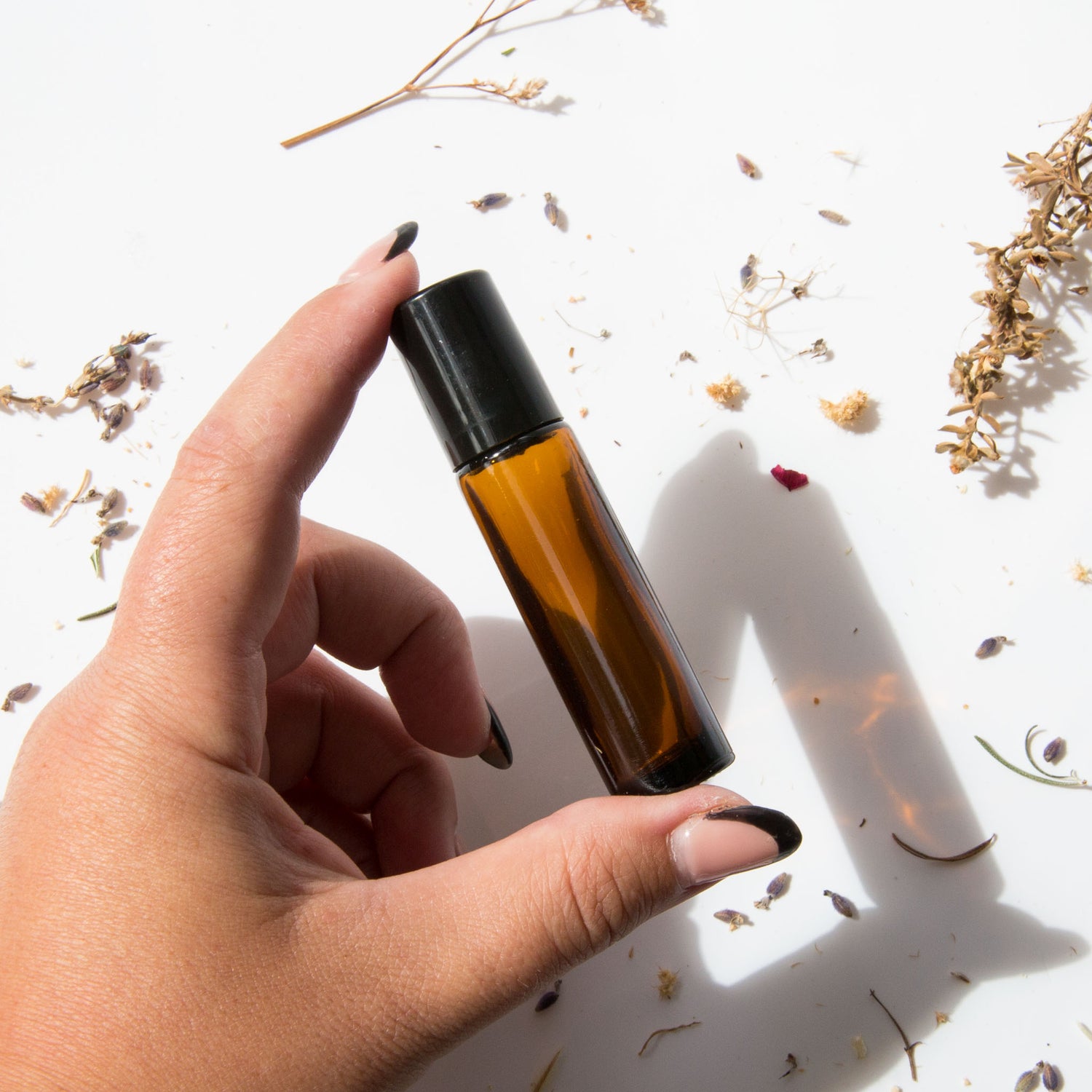 Blending Your Own?
Grab a roller bottle for easy application of your own custom essential oil blends or perfume.
Grab One Here